Meet Dr. Jeff Belgue
Dr. Belgue is a chiropractor with Dynamic Health & Performance — a leading Oakville-based health clinic that offers a wide range of comprehensive services to treat acute, chronic and athletic injuries.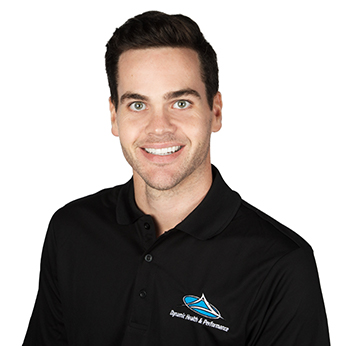 Our treatment goes far beyond treating our patients' pain. Rather, we identify the root cause of the injury and help our patients work towards fixing the problem. It gives our team great pleasure to empower our patients with an individualized treatment plan that will help decrease the likelihood of injury reoccurrence.
B.Sc (Kin), DC, ART®, D.Ac. - Chiropractor
Dr. Belgue has dedicated his education to health and wellness, and has firsthand experience in how it imparts positive changes in life. A dedicated athlete, Dr. Belgue is an active participant in many sports, including baseball, volleyball, golf, basketball and hockey. He is committed to treating both acute and chronic conditions and is focused on active rehabilitation to help his patients return to a healthy lifestyle.
Dr. Belgue attended the University of Waterloo where he earned a 5 year Honours Degree Majoring in Kinesiology. He continued his education at the Canadian Memorial Chiropractic College where he graduated Magna Cum Laude and with Clinical Honours. During his training, he earned certification in Active Release Technique® and Contemporary (Neurofunctional) Medical Acupuncture. Committed to continuing his education, Dr. Belgue has since earned his Titleist Performance Institute Level I (TPI) and Functional Movement Screen Level 1 (FMS).
Ready to Get Started?
Whether you're looking for more personal agility or to help your sports team perform better, we invite you to get in touch. No pressure. No obligation. Just a conversation about what we can do together.