Meet Dr. Kaitlyn Szabo
Dr. Szabo is a chiropractor with Dynamic Health & Performance — a leading Oakville-based health clinic that offers a wide range of comprehensive services to treat acute, chronic and athletic injuries.
---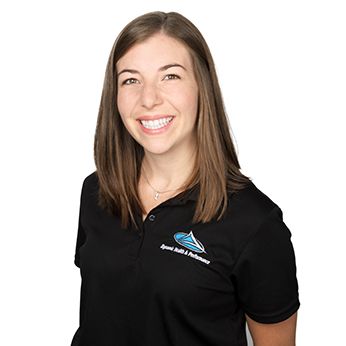 Our team empowers our patients to take an active approach to managing their health, and overcoming injuries and pain. We thrive on helping our patients reach their personal and health goals, whether it's high level athletics or playing with their children.
B.Sc.Kin, DC, CSCS, D.Ac - Chiropractor
Dr. Szabo is committed to providing patient-centered care. She treats acute, chronic, and athletic conditions, with a focus on active rehabilitation to help her patients reach their full potential.

She has worked as the Team Trainer for a variety of teams within the Greater Toronto Hockey League, the Provincial Women's Hockey League, the National Ringette League, the Ontario Volleyball Association, Rugby Ontario and Ontario Soccer (OPDL).

She attended McMaster University and the Canadian Memorial Chiropractic College where she graduated Summa Cum Laude from both academes. Dr. Szabo earned her certifications in Contemporary Medical Acupuncture from McMaster University, Certified Strength and Conditioning Specialist (NSCA), Functional Range Release Practitioner, Functional Range Conditioning (FRC) Mobility Specialist, Prevention of Running Injuries, Complete Concussion Management (CCMI), and Pregnancy and Post-Partum Care. She also did a 12-day clinical outreach in the Dominican Republic.

She is the recipient of multiple awards, including the 2020 Oakville Readers' Best Chiropractor, York Peel Chiropractic Award, and Herbert K. Lee Memorial Award.

An experienced and successful former competitive dancer, amateur boxer, and collegiate rower, Dr. Szabo continues to enjoy an active lifestyle.
Email Kaitlyn
Fill out the form below to inquire with Kaitlyn.
Ready to Get Started?
Whether you're looking for more personal agility or to help your sports team perform better, we invite you to get in touch. No pressure. No obligation. Just a conversation about what we can do together.