Meet Natalie Figueira
Natalie is a Certified Athletic Therapist with Dynamic Health & Performance — a leading Oakville-based health clinic that offers a wide range of comprehensive services to treat acute, chronic and athletic injuries.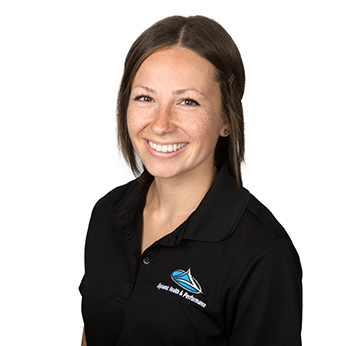 Our team takes a collaborative approach to our patients' care and our positive, motivating environment contributes to the individualized treatment plans we develop to help propel our patients back to their active lifestyle.
HBa. (Kin), BAHSc, CAT(C) - Athletic Therapist
Natalie specializes in the assessment, management and treatment of musculoskeletal injuries. She believes that a proactive approach to rehabilitation can help athletes return to an active, healthy lifestyle.
As an Athletic Therapist, Natalie has worked with athletes in a variety of sports, including field and box lacrosse, hockey, and university football. She has also worked with the Toronto Argonauts. Working with a variety of sports teams has provided Natalie the opportunity to expand her capabilities and achieve effective injury rehabilitation and prevention.
Natalie completed her Honours Kinesiology undergraduate degree at Wilfrid Laurier University. She continued her education at Sheridan College where she completed her Bachelor of Applied Health Sciences in Athletic Therapy. Committed to continuing education, Natalie has also secured her Certification as a First Responder.
An active lifestyle has always been a part of Natalie's life. She grew up playing soccer, trained as a competitive gymnast, and coached gymnastics to young athletes.
Email Natalie
Fill out the form below to contact Natalie directly.
Ready to Get Started?
Whether you're looking for more personal agility or to help your sports team perform better, we invite you to get in touch. No pressure. No obligation. Just a conversation about what we can do together.