Meet Dr. Krystyna Bellisario
Dr. Bellisario is a chiropractor with Dynamic Health & Performance — a leading Oakville-based health clinic that offers a wide range of comprehensive services to treat acute, chronic and athletic injuries.
---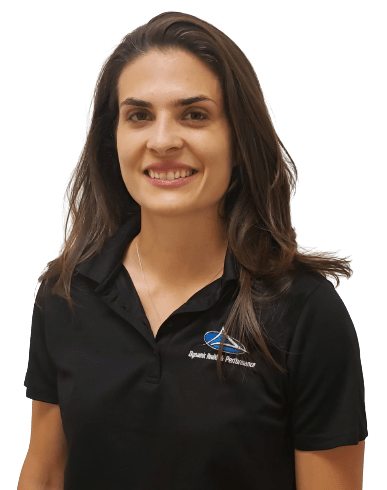 Dr. Krystyna Bellisario 
BA, DC - Chiropractor & Medical Acupuncture Provider
Dr. Krystyna Bellisario treats both acute and chronic injuries through an evidence-based, patient-centered approach. Dr. Bellisario empowers her patients through education, equipping them with self-management strategies which they can use long after their treatment is complete. She works with athletes, patients looking to stay active, and individuals working towards a healthy active lifestyle. 

Dr. Krystyna Bellisario attended Princeton University, New Jersey. She completed a four-year Honours Bachelor of Arts Degree where she earned the ECAC All-Academic Team in 2011-2012. Dr. Bellisario continued her educational path at the Canadian Memorial Chiropractic College graduating Summa Cum Laude as a Doctor of Chiropractic. Dr. Krystyna Bellisario was awarded the Reinhart Chiropractic Philosophy Award, which is reserved for a senior student showing promise in applying chiropractic principles in practice. More recently, she completed her Contemporary Neurofunctional Acupuncture Certification through McMaster University and practices as an Emergency First Responder through SportSide Medical.

Dr. Bellisario faced many challenges as a collegiate athlete including significant hip injuries and concussions. It was the chiropractic team at Princeton university who inspired her to pursue a career in chiropractic medicine. Many remain close mentors today.   

Away from the clinic, you can find Dr. Bellisario tuned into a Leafs game, making gourmet meals, or cheering on recreational sports leagues in the GTA.
Ready to Get Started?
Whether you're looking for more personal agility or to help your sports team perform better, we invite you to get in touch. No pressure. No obligation. Just a conversation about what we can do together.