Meet Daniel Gasbarri
Daniel Gasbarri is an Athletic Therapist with Dynamic Health & Performance — a leading Oakville-based health clinic that offers a wide range of comprehensive services to treat acute, chronic and athletic injuries.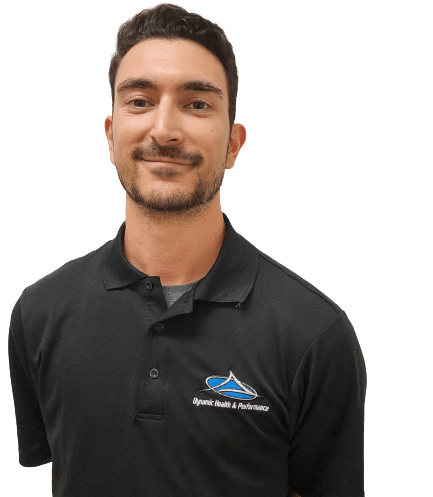 Daniel Gasbarri
BASc. Kin (Hons.), CAT(C) - Certified Athletic Therapist
Daniel is an Athletic Therapist who utilizes his wide range of knowledge in assessment, rehabilitation and strength training to get the best out of his patients and athletes every day. He treats acute and chronic musculoskeletal injuries with the intention to get the individual back to their regular lives with new-found confidence.

Daniel graduated with distinction from the University of Guelph-Humber with a Bachelor of Applied Science Kinesiology degree, and a diploma in Fitness and Health Promotion. He went on to attend Sheridan College, where he completed the Bachelor of Applied Health Sciences (Athletic Therapy) program, graduating with honours.

As a field therapist, Daniel has worked with Ontario Soccer for a number of years, covering games for the Ontario Player Development League (OPDL) and Provincial games. He has also worked with Burlington Soccer Club as the Men's and Women's League 1 Premier division therapist; Alliance United Men's and Women's League 1 Reserve division; and, Oakville Blue Devils Men's League 1 Premier and Reserve divisions. He was on the bench for the Blue Devils League 1 Premier division title during the 2017 season that sent them into the Canadian Championships. Most recently, he was the student Athletic Therapist for the Sheridan Bruins Varsity Men's Volleyball team for the 2022/2023 OCAA season. Along with soccer and volleyball, Daniel has covered football, field hockey, ice hockey and lacrosse at various levels. Daniel currently holds a First Responder certification for field coverage.

Away from the clinic, Daniel still enjoys playing soccer, hockey and golf.
Ready to Get Started?
Whether you're looking for more personal agility or to help your sports team perform better, we invite you to get in touch. No pressure. No obligation. Just a conversation about what we can do together.