Meet Dr. Benjamin Fryer
Dr. Ben Fryer is a founding partner of Dynamic Health & Performance — a leading Oakville-based health clinic that offers a wide range of comprehensive services to treat acute, chronic and athletic injuries.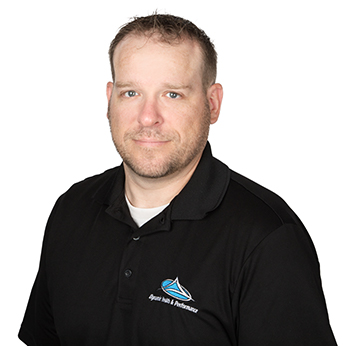 Our team of experienced practitioners is here to support and guide our patients. Whether a patient is in recovery or looking to enhance their performance on the field, court or ice - if they are willing to put in the work, we are here to help them achieve results.
HBa. (Kin), DC, ART®, CSCS, D.Ac. - Chiropractor
Working closely with his partner, Dr. Jeff Weekes, and a team of health care professionals, Dr. Fryer helps athletes and patients optimize their health and performance with evidence-based rehabilitative therapy.
Dr. Fryer has extensive experience treating many different injuries from sports, and has worked with national-level gymnasts, dancers, figure skaters, hockey players, soccer players, golfers, and triathletes. He has treated professional hockey players from the NHL, AHL, ECHL, OHL and OJHL and is the Team Doctor for the Oakville Blades, Oakville Buzz, Burlington Chiefs, Mississauga Swimming, U19 Lady Hawks Lacrosse, and Oakville Rangers Midget AAA to name a few.
He attended the 2015 World Jr. A Challenge as team therapist for Team Canada East; the 2013 Team Canada East Selection camp; and the 2014 Central Canada Cup as a team doctor. He also attended the Dudley Hewitt Cup and Royal Bank Cup as the Team Doctor for the Oakville Blades in 2008 and 2010, and lead the medical clinic at the 2012 Alberta Winter Games.
Dr. Fryer attended the University of Western Ontario where he completed a four-year Honours degree majoring in Kinesiology, with a special interest in Anatomy and Biomechanics. He continued on his educational path and graduated from the four year program at the Canadian Memorial Chiropractic College as a Doctor of Chiropractic.
Throughout his training, Dr. Fryer earned full certification in the soft tissue technique ART® (Active Release Techniques) and Graston® Techniques. He also achieved certifications in CSCS (Certified Strength and Conditioning Specialist), Medical Acupuncture from the McMaster Contemporary Medical Acupuncture program, and is Level 3 Titleist Professional Institute Certified.
An avid golfer, Dr. Fryer is retired from playing football, rugby and hockey.
Email Dr. Fryer
Fill out the form below to inquire with Ben.
Ready to Get Started?
Whether you're looking for more personal agility or to help your sports team perform better, we invite you to get in touch. No pressure. No obligation. Just a conversation about what we can do together.