Chiropodist

Chiropody is the assessment and treatment of disorders, injuries and diseases of the foot. At Dynamic Health & Performance in Oakville, our on-site chiropodist helps patients maintain the health of this foundational body part.
What Is Chiropody?
Regular foot care is essential, whether you're an athlete or not, for an active and healthy lifestyle. The practice of Chiropody is the assessment, treatment and prevention of diseases, disorders or dysfunctions of the foot.
Chiropodists use a variety of therapeutic, orthotic or palliative means and techniques to effect healing and rehabilitation for their patients.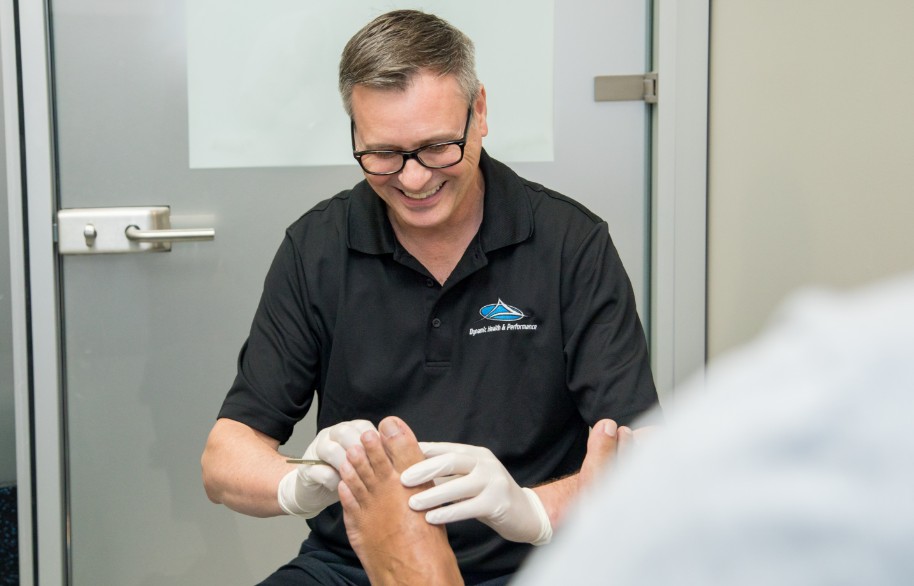 Your feet carry you through life, and problems in the feet can often manifest themselves in pain or discomfort elsewhere in the body. As a chiropodist, it's my job to help you maintain the health and function of your feet and ankles, and in turn, your overall quality of life, too.
Chiropody at Dynamic Health & Performance
At Dynamic Health & Performance, our in-house Chiropodist provides a complete range of foot healthcare treatment options and orthotics to help our patients put their best foot forward.
Our chiropodist can treat everything from minor ailments, such as heel pain, bunions, or ingrown toenails, to more serious issues including sprains, or infections or fractures related to the feet.
Upon arrival at Dynamic Health & Performance for your initial appointment, you will complete our patient intake information forms and a health history, and will undergo a physical exam to determine the nature and cause of your foot health problem.
After a diagnosis, your chiropodist will discuss your treatment plan and prognosis with you, and will get started with treatment, or let you know if further investigation if necessary. If this is the case, you may be sent for X-rays or to one of our referral partner physicians who will order the appropriate diagnostic tests.
Chiropody helps with:
Arthritis
Diabetes
Ankle injuries and pain
Foot injuries
Back pain
Heel pain
Ingrown nails
Arch problems
Pre/postnatal care
Meet Our Chiropodist
Cameron McArthur
Chiropodist
Ready to Get Started?
Whether you're looking for more personal agility or to help your sports team perform better, we invite you to get in touch. No pressure. No obligation. Just a conversation about what we can do together.